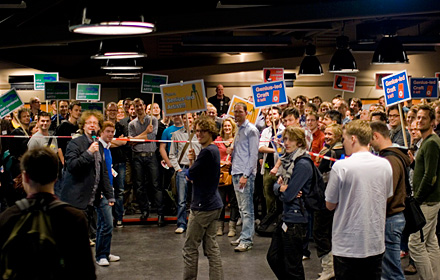 The Design by Fire Conference provides a stage for inspiring professionals to share their passion for interaction design with peers — mutually refreshing both knowledge and competence to cope with the challenges of modern IxD's professional practice.
The germ of the conference lies in Andrei Herasimchuk's publications on design. In 2004 he dared to present a redesign of Jakob Nielsen's website. Since then he keeps on challenging the HCI community to take interaction design seriously. The conference is named after his weblog designbyfire.com. Andrei was the keynote speaker at the first Design by Fire Conference in 2007.
2010 team
Design by Fire 2010 is an IxDA conference organized by the volunteers listed below.
Yohan Creemers
After graduating as Industrial Design Engineer at TU Delft, Yohan worked as product designer for Davilex and XOIP.
In 2001 he started Ylab, a design studio based in Utrecht. Yohan is one of the driving forces behind the IxD community in The Netherlands and the chairman of IxDA Nederland.
Sanne 't Hooft
Like Yohan, Sanne studied Industrial Design Engineering at TU Delft. After 8 designer years in the field, he now works at the School of Interactive Media (Hogeschool van Amsterdam). Here he teaches HCI related courses and runs the usability lab. Sanne is partner at Ylab and treasurer of IxDA Nederland.
Carolien de Kort
After working as a designer for USoft, Cap Gemini (with Sanne) and Davilex (with Yohan), Carolien started LIEN design. LIEN design provides practical user interface advice to small, technology-driven software companies. At IxDA Nederland, Carolien holds the position of secretary of the board.
Dean Janssen
Dean pushes pixels at Netherlands Public Broadcasting (NPO) in Hilversum. Here he oversees IxD projects for most all Dutch public television channels, radio networks and shared web-based services. Platforms include mobile and interactive television, as well as good old World Wide Web.
Additional credits
The Design by Fire Conference — under the auspices of IxDA Nederland — is an initiative of Arjan Haring.
DxF Conference logo designed by Andrei Michael Herasimchuk.