Workshops
The Design by Fire Workshops and DesignCamp took place at Hogeschool Utrecht on .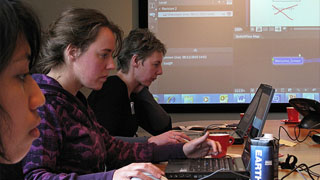 Expression Blend & SketchFlow Protoyping
— Floor Mesters (Microsoft)
Expression Blend is the tool for interaction designers to create an interactive user interface without writing a word of code.
During this hands-on workshop we will cover almost the entire development process of creating a Silverlight application. Prototyping with SketchFlow, which enables you to rapidly present your ideas to customers and gather their feedback. Creating an interactive user interface that can be used by your developers.
This workshop will show you that Expression Blend can provide a seamless design and development workflow.
Floor Mesters is a User Experience consultant at Microsoft. With a background in communication and interaction design she is focused on delivering a great user experience to Microsoft customers. Through showing the business value of Microsoft technologies by visualizing what these technologies mean for a certain business. As a User Experience and Expression enthusiast you can find her at events like PicNic, MIX, The Next Web and DevDays.
Hands-On Arduino
— Eelke Feenstra (Zesbaans) & Adriaan Wormgoor (Fourcelabs)
Real-world metaphors are used to create context in the digital world. But what if those metaphors weren't necessary and ordinary objects in the real world could magically play a role in your digital application? With the Arduino you can prototype such 'embedded' solutions, using all kinds of (simple) sensors. You can add an interactive layer to everyday objects, bring lifeless objects to life and create innovative man-machine interfaces and interactions.
Through a series of practical exercises, this workshop gives an impression of the Arduino micro-controller's abilities and teaches the skills you need to start your own Arduino projects.
Eelke Feenstra (1981) has a background in Digital Media Design and Media technology. He designs and builds interactive media, often physical. He works both as an independent contractor and at Zesbaans, a new media/art collective he started in 2007 with 5 like-minded creatives.
Adriaan Wormgoor (1979) studied Interaction Design. Together with 2 partners he started Fourcelabs in 2009. Fourcelabs designs and develops games and playful interactions for events, museums and cross-media campaigns. At Fourcelabs he is responsible for software and hardware development.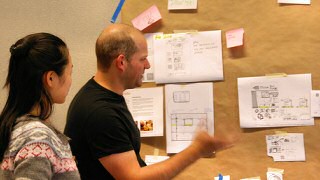 Good Design Faster
— Peter Boersma (Adaptive Path)
To create great user experiences, you need fast, agile, and compelling tools that generate new ideas and solve tough problems of interactivity, flow, and form.
Good Design Faster, Adaptive Path's newest workshop, is an immersive, hands-on experience that takes you from back-of-the-napkin sketching to complete, team-approved designs in a remarkably short time. Good Design Faster brings together Adaptive Path's favorite techniques for rapid, flexible design and prototyping, and recreates the high-energy experience of working in an Adaptive Path design studio.
In this workshop you'll learn methods and build skills to:
Explore a variety of design possibilities through a structured, rapid ideation process.
Convey your ideas and build team buy-in using sketchboards.
Facilitate honest, productive design reviews with a multi-disciplinary team.
Put it all together into a repeatable, sprint-driven design process.
Peter Boersma (1970) is an experience designer at Adaptive Path's European studio in Amsterdam. He has 15 years of experience designing complex, interactive systems and has moderated many sketch and approval workshops. Peter teaches an Interaction Design course and has presented at national and international User Experience conferences. He blogs at beep.peterboersma.com.
Design by Fire DesignCamp
— You!
The Design by Fire DesignCamp is a user-generated conference (or unconference) born from the desire to share and learn design solutions in an open environment. It'll be an intense event with participation of all attendees who are the main actors of the event.
There will be two series of parallel sessions. Each session will last 90 minutes and focuses on a specific (real or unreal, abstract or concrete) design problem or design method. The case owner will shortly introduce the design problem or method at the start of the session. The remaining time will be used to jointly create a design solution.
Everyone can bring up a case. The sessions are scheduled on the day itself.
The following four cases will be brougth to the table:
Icing on the Cake through Paper Prototyping
— Bas Evers, Information specialist at Informaat ·


— Xander Roozen, Information architect at Informaat ·

Discogs.com is a user-driven musical encyclopedia and marketplace. Anyone can add new content to the site. From a UX perspective it's interesting to see how Discogs creates a useful context for their users. Some spiffy solutions are in place, but there's some icing to be put on the cake. We want to invite you to create some ice by paper prototyping.
Design Challenges for the Internet of Things
— Claire Rowland, Service Design/Research Lead at Fjord ·


— Alfred Lui, Sr. Designer at Fjord ·

This session invites you to take the point of view of a daily object and imagine how objects can be connected a service. Using structured story-telling exercises, you will explore and examine challenges of designing services in the physical realm, and how those challenges relate to topics in service design with Internet of Things (IoT).
Helping voluntary caregivers to help
— Henk Wijnholds, Researcher and Designer at Concept7 ·

Good healthcare is getting more expensive by the year. Something has to be done to keep healthcare affordable and of high quality for everyone in The Netherlands. One initiative, sparked by Menzis, is to ease the lives of voluntary caregivers. Life is seldom simple for these caregivers. We've described their pain points as abstract user stories and now we want to brainstorm for ideas, choose the best ideas and sketch the concept of an online application which helps easing their lives.
Changing human behavior by playing cards
— Arjan Haring, Projectmanager at Hogeschool Utrecht ·


— Yohan Creemers, Partner at Ylab ·

Most websites and information systems are maintained through a content management system. As designer of such a site you have little control over the future usability of the content. How can we support the editorial staff in keeping the content user centered over the life time of the website? With the aid of Stephen Anderson's Mental Notes we will design a CMS that helps editors to fulfill their tasks in a better and easier way.
No spectators, only participants! Anyone with something to contribute or with the desire to learn is welcome and invited to join. When you come, be prepared to share with fellow attendees. When you leave, be prepared to share it with the world.