Waterwerk, interaction in a swimming pool
17 November 2014 – Utrecht
Waterwerk is an interactive work of art for the pool of sports complex 'Koning William Alexander' in Hoofddorp. The pool was equipped with ten cameras and a giant screen that interacts with the swimmers.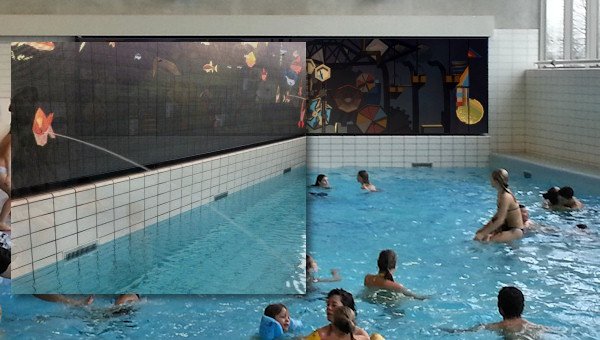 During the development of Waterwerk the following design issues surfaced:
How does interaction work in a playful, public space?
How do you get a group to play with a screen?
Is a pool suitable for digital interaction at all?
What value can we add to a ordinary pool visit?
Waterworks is a varied program, that can be different every moment of the day, and that makes swimming an imaginative experience.
Harm van de Ven is interactive art director at Zesbaans. This collective makes art with interaction and new media. From playful installations to video works, and from galleries to nightclubs. Zesbaans consists of five designers, specializing in interaction design, motion design and technology.
Practical information
Date and time
Monday 17 November 2014
Location
Louis Hartlooper Complex
Tolsteegbrug 1
3511 ZN Utrecht
Contact
Please send questions and remarks to: cafe@designbyfire.nl.